RELIABLE SUPPORT FOR YOUR DAILY LIFE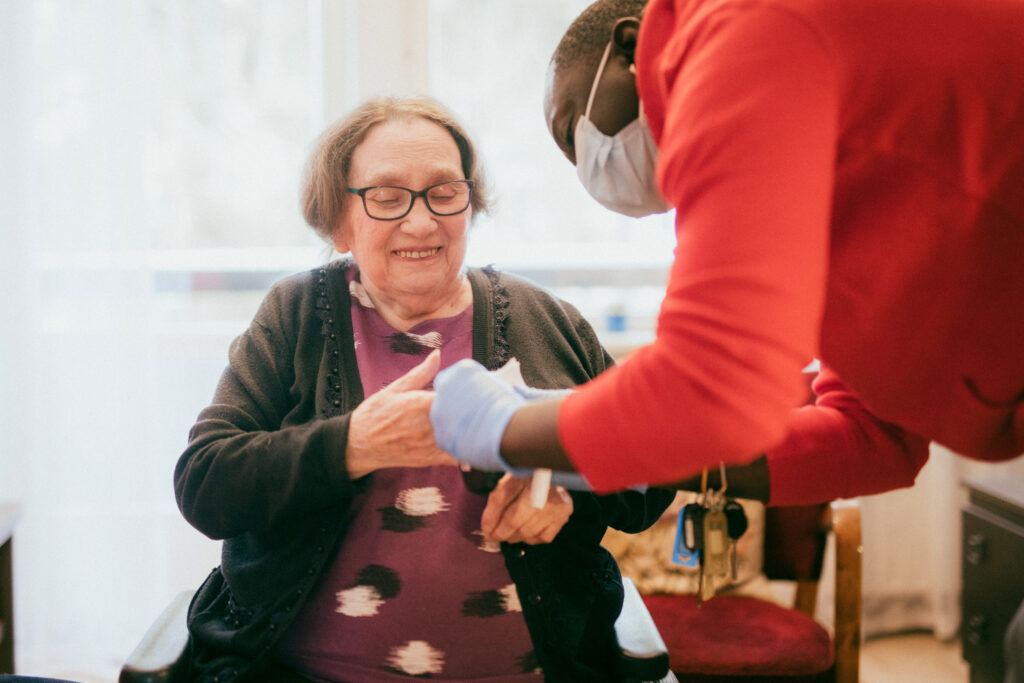 We all need help sometimes – great or small. Whether you need help with aging, recovering from illness or surgery, mental health or disability support, or substituting a family caregiver, home care can be the support and safety of everyday life.
At 9Lives home care, we help you and your loved ones with all those personal everyday tasks where you need our assistance. Our mission is to enable our clients to have a pleasant, functional, and safe life at home.
Is home care suitable for me or my loved one?
Home care is suitable not only for the elderly and elderly care services but also for those with disabilities and those recovering from illness or surgery. Our clients also include families with children who have been granted a service voucher for family home care services.
Home care brings the nurse's services to your home
9Lives home care is always tailored according to your and your loved one's wishes. Most often, our nurses assist with morning and evening routines, prepare meals and assist with eating. They also assist with toilet visits and hygiene care, ensuring your loved one has clean clothes and feels good.

In addition to basic activities, we can, for example, exercise with the client, bake pastries, accompany them to the doctor or theater, or keep them company in card games or crosswords. We may be the only daily human contact for many elderly clients, so it is important for us to inquire about their well-being and connect with them as individuals.

Our nurses are trained and professional practical nurses and registered nurses. We always strive to have familiar nurses easily accessible and pay individual attention to your needs.
We offer our services in Finnish, and in some locations, we also offer Swedish-speaking home care. We also provide private home healthcare services if you need round-the-clock care.
Flexible Remote Home Care Services
Do you wish for more peace and quiet? If desired, some home care visits, such as one of three daily visits, can be replaced with remote services.

Some of our clients read newspapers remotely with a remote care nurse or take their medication following their instructions. Another client may want one daily visit to be split into several shorter remote visits, resulting in several shorter contacts or rehabilitating exercise sessions per day. With remote service clients, we can also organize group exercise, reading circles, or other group sessions.

For remote visits, we install an easy-to-use tablet-like device in the client's home, which makes it easy to connect during remote visits. No technical expertise is needed – it is enough that the client can hear and see well enough. The device remains operational and charged after installation.

Remote home care services are available throughout Finland.
PHYSIOTHERAPY SERVICES AT HOME
Problems with mobility or need rehabilitation after injury or surgery? Through us, you can purchase physiotherapy services conveniently at home. Our physiotherapists help improve functionality and maintain dexterity and independence, taking into account the client's needs and home features. At the moment, we only provide physiotherapy services in the Helsinki metropolitan area.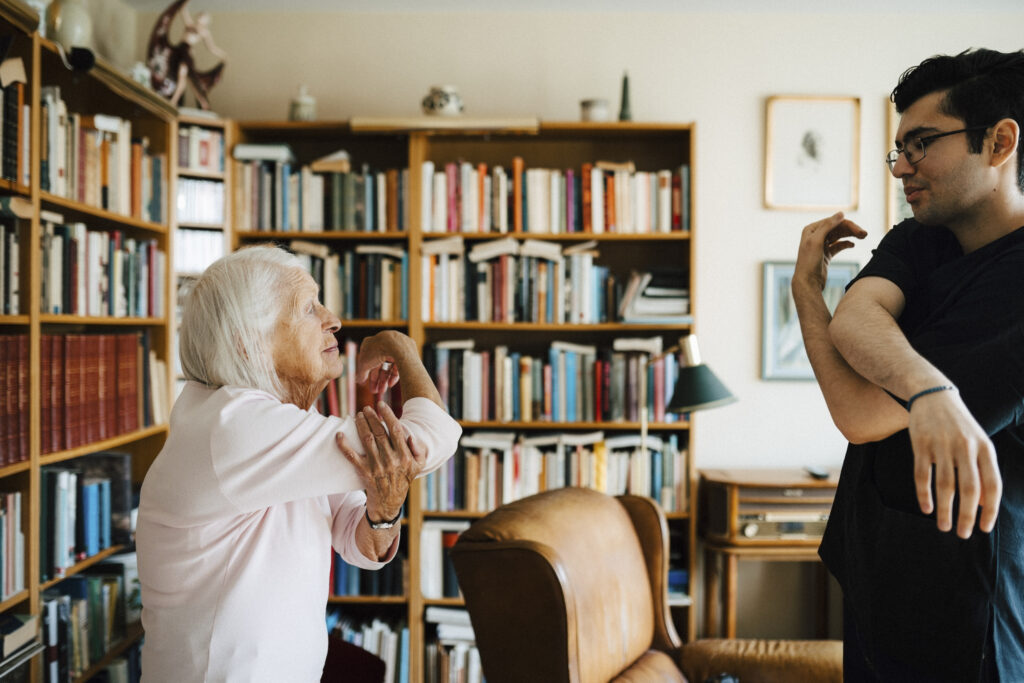 SERVICE VOUCHER CLIENTS
With a service voucher, you can purchase our home care services. In addition to home care, we offer personal assistance services for service voucher clients. If you have a service voucher, contact our home care customer service directly at 010 633 8585.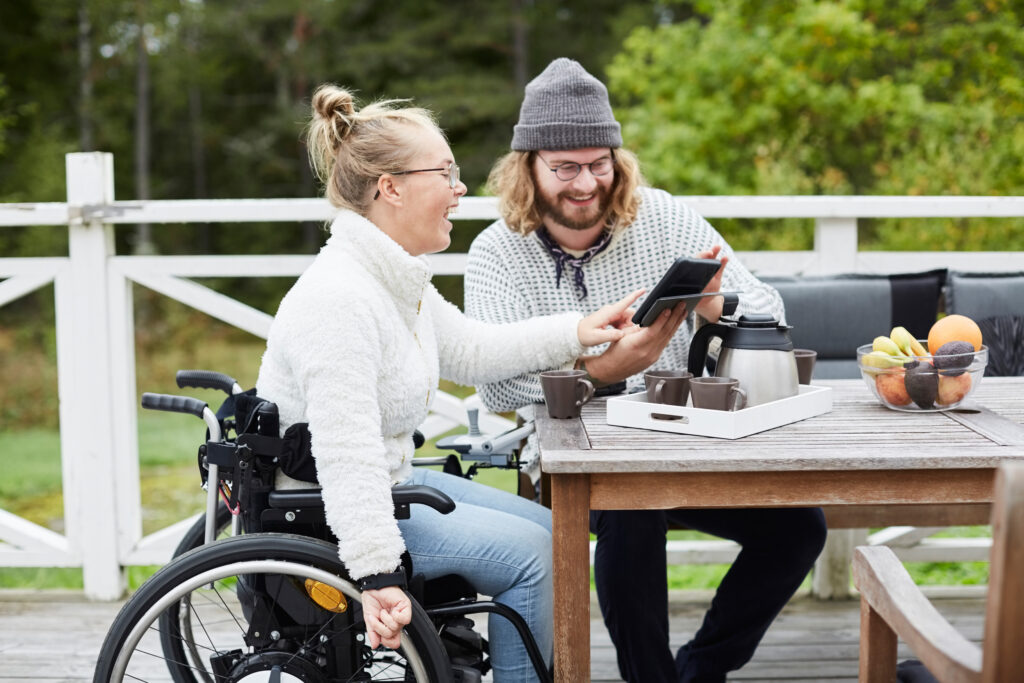 Becoming a client through your wellbeing services county
We work closely with the public sector and are partners in implementing public home care in several wellbeing services counties. If you or a loved one in need of home care live in a wellbeing services county that has outsourced home care services to us, you don't need a service voucher to become our client. The wellbeing services county will guide you to us – and we will warmly welcome you!
Family caregiver substitutes
Family caregivers also need to rest or take care of other things from time to time. Did you know that as a family caregiver, you can get a substitute for your statutory days off from us?
If you want your loved one to be cared for at home on your days off instead of at a service house, you can purchase home care from us. When you have your day off, we will take good care of your loved one.
Home care at your own expense
Would you like to provide your loved one with additional services, such as an extra weekly home visit or company for grocery shopping? With us, you can supplement your home services purchased with a service voucher with self-paid additional services of your choice. We are happy to help tailor a package according to your wishes.
Home care prices for private clients
If you are a private client and pay for the services yourself, please note that home care prices vary by location, day of the week, and time of day.
Did you know that you may be entitled to a pensioner care allowance?
You may be entitled to support if you are a full-time pensioner, have a disability or illness, your functional ability is impaired, and you need help at home. The more help you need, the more support you can get for care costs.
Tax credit for household expenses
Did you know that if you pay for home care for yourself, your parent, or grandparent, you can make a 60% household expense deduction on taxes? The deduction can be made from taxable earnings or pension income directly on the tax card. The deductible is 100 euros per person per year. Service voucher customers cannot receive a household expense deduction.
Would you like to find out more about our home care services?
Please contact us! Let's figure out together how we could best serve you or your loved one.