Blog
Event Organizer, Have You Taken Care of First Aid for Your Event?
As summer approaches, we can look forward to a season full of sports, festival life, and market atmosphere. Event organizers are busy creating memorable experiences to meet pent-up demand – safely. We have put together a list of safety considerations when organizing an event.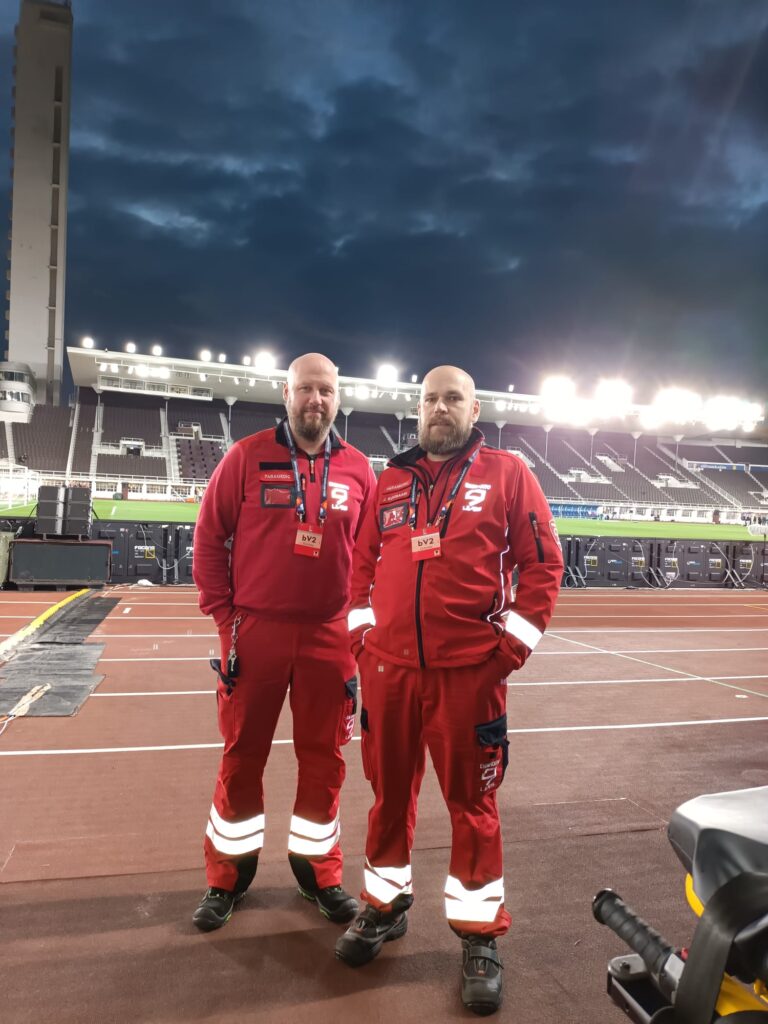 The Event Organizer is Responsible for Safety
Under the Consumer Safety Act, the event organizer is responsible for the safety of their event. Safety encompasses many aspects, such as traffic control, fire safety, and order maintenance. First aid preparedness is also an essential area.

Typically, the event organizer notifies the police about their event. As part of the safety plan, the organizer assesses the risks of the event and their probability and impact. The necessary level of first aid preparedness on-site is determined based on the nature of the event and the risk assessment.

"In large events, it is crucial to have your own first aid providers, as general emergency medical services should not be burdened with first aid services for the event. Civil emergency care tasks are better secured with dedicated event first aid workers. Response time improves, and event participants are guaranteed to receive prompt assistance. We can also help in drafting the overall safety plan," explains Jukka Rantala, Business Manager for Emergency Medical Services at 9Lives.
Safe Sports from Wife Carrying to World Rally Championship and Finnish National Ice Swimming Championships
9Lives has provided safety for various market events and music events. We also have experience in film and TV series filming sessions, where the ambulance and medical staff might be needed for first aid preparedness and, occasionally, as props.

However, the main need for event first aid workers is found on sports fields, where the likelihood of incidents, both minor and major, is higher.

"Risks are different in hobby horse events and the World Rally Championships in Jyväskylä. High-risk events require more comprehensive first aid preparedness and, if necessary, a doctor on-site. For example, in motor sports, serious accidents can happen when risks materialize. It's also essential to remember that in addition to athletes, something may happen to spectators, such as heart attacks or arrhythmia cases," Rantala explains.

In sports events, 9Lives is available for one-time services or as a long-term partner. For example, we have a partnership agreement with HIFK for providing event standby first aid workers during home games.

For international sports competitions, it's essential to note that international sports federations may have specific requirements for event organizers regarding the number, level of first aid preparedness, the equipment, medications in use, and more.

"In Finland, there is a growing interest in hosting major and international competitions. Safety is a fundamental element of success in these events."
9Lives Is an Agile and Experienced Operator: How to Order First Aid for your Event
"9Lives has a long tradition in emergency medical services. We are familiar with the equipment, risks and event requirements. Our skilled and professional staff have been involved in many events over the years," says Rantala.

As a private company, 9Lives can react to requests quickly, and tailor services smoothly according to the client's wishes. For larger events, multiple ambulances can be arranged, while smaller events may require lighter equipment and assistance.

You can submit a request for an event standby on 9Lives' website, and you can also directly inquire for more information from Jukka Rantala.

"Don't hesitate to contact us. We can quickly assess your event's standby needs based on the number of participants, date, event nature, and potential risks. It's essential not to underestimate or overestimate first aid preparedness."

Rantala encourages sports associations to consider a longer-term cooperation agreement.

"If you know that you have multiple events coming up within the year, it may be worthwhile to consider a continuous cooperation agreement. This is the most cost-effective solution for all parties. We can help in various aspects of event safety, from planning to execution. In addition, we are happy to discuss joint sponsorship opportunities around your event," Rantala concludes.
Read more
For more information, contact
Business Manager Jukka Rantala